Thanksgiving is over, Halloween is over, and you know what that means. It's time to spend 60 days obsessing about Christmas! Last week I was fortunate enough to be invited to attend Lush's Christmas Party at the Toronto Eaton Centre where they highlighted some of the great new products, and classic Lush items, that would be great gifts this holiday season.
From soaps to masks, lip scrubs to soap that smells good enough to eat. I had a great time, took some colourful pictures, noshed on some champagne and cake pops and left with quite a bit to share with you!
The Mask Station
Of course, naturally, I was drawn to the face-mask table immediately after signing in. I'm HUGE on the use of natural products for skincare (see my DIY post right here) and Lush's Fresh Face Masks are perfect for a powerful, natural skincare supplement. This featured mask was the Cranberry Festive Face Mask, a seasonal favourite that combines fresh cranberries, silken tofu, argan oil, fennel and an intoxicating and refreshing blend of essential oils. It is a godsend for parched skin and helped give brighten and soften my skin. The effects were pretty immediate. I loved this mask. Lush's Fresh Face Masks are meant to be used within a few weeks of purchasing, but you can get at least five masks out of each little 60g pot.
The Soap Bar
There are a bunch of Lush soaps that are good enough to eat, amd some that look so good you don't want to cut into them! For the holidays this year, the big festive soaps are the Baked Alaska which looked like a snowball but smelled like a lemon gobstopper, Snowcake, a sweet, marzipan inspired concoction, and my personal favourite, the gorgeous and intricate Old Father Time! This is one of the most complex soaps made by Lush, resembling a giant clock counting down the hours to Christmas. It smells of sage and thyme, is super refreshing and will give you enough kick and energy to accomplish all your holiday shopping!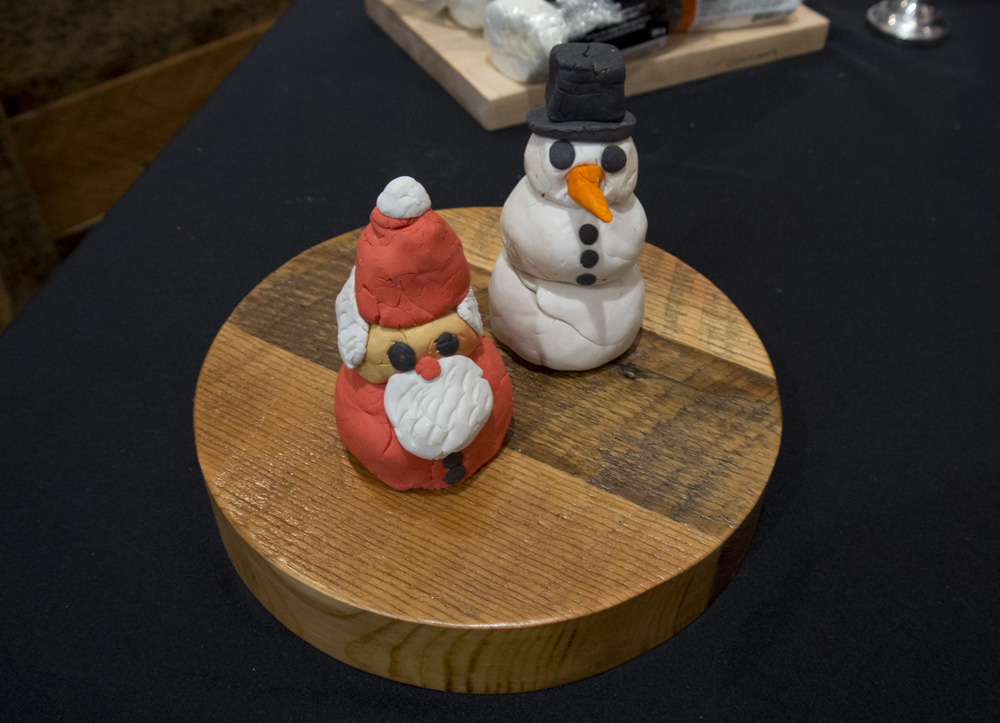 The Fun Zone
This was the first spot at Lush that was a surprise for me. I've owned many a body wash, bath bomb, soap and mask before, but never these malleable and joyful little soaps! In your hands they are soft and pliable like play doh. Once you wash with them, they build a lot of frothy bubbles and leave the skin SUPER soft after use (a boon for anybody who needs to wash their hands often) and as a bonus, they can also be played with! These soaps are fun for children and adults alike! I made a (super simple) Snow Man, while Steph from Fun Size Beauty made the cutest little Santa beside me.
The Bath Bomb
Last but not least, it's impossible to head to Lush and ignore the bath bombs. While people were still obsessed with the popular Halloween product, the Lord of Misrule, we had the chance to make our very own Stardust bath bombs along with our very helpful Lush staffer. Stardust has the soothing scent of bergamot and vanilla, and I absolutely can't wait for the ideal relaxing night to fall into the bath with this one! Other fun holiday bath bombs include the tasty Nog Yog and the cheerful Dashing Santa who literally zips around your bathtub!
A special gift
One of my favourite things about Lush for the holidays is the sheer variety and creativity with their gift sets. They have a number of them for any price range and any type of gift. Some of my favourites include Joy to the World ($19.95) which has the rare Love and Light Hand Cream, a salve for anybody who hates flaky skin in the winter, and the delicious aforementioned Snowcake soap. Winter Garden ($37.95) which is a giant, pretty ball full with the Rose Jam shower gel, a body scrub, moisturizer and more. And finally, the behemoth, It's Christmas ($199.95) which has 24 gorgeous gifts to keep that special person in your life deliciously fragrant and happy. You can also pick any items you want and have them custom wrapped for you with a colourful, reusable Knot-Wrap.
It was lovely to spend the night with the Lush staff, it's really easy to see why people love working for this company. Never have I been to a special event before where the staff knew so much about all the products, were happy to share their knowledge with me, and seemed genuinely pleased when I sampled products. Lush is doing something special, and this contagious, festive feeling definitely reached me too.
What is your favourite Lush holiday product? Are you addicted to Snow Fairy? Do you like picking up some sparkling bath bombs? A bath melt? Let me know!
A few of the products mentioned were provided for review, but opinions are all my own.