As the years go on and the collections keep rolling out, I find myself falling more and more in love with Too Faced Cosmetics. Their eyeshadows are high quality, their lipsticks are beautifully pigmented, their products positively RADIATE colour and it can't hurt that they often smell sweet too. But I think Too Faced really knocked it out of the park with their Too Faced Peach Kiss lipsticks and I wanted to highlight my three favourite shades as of right now. I long to add a few more to my collection so who knows, maybe I'll have a sequel!
Despite being a big Too Faced fan, I've yet to buy any of the Too Faced Peach eyeshadows. I love my Peanut Butter and Jelly Palette and the Totally Cute palette, but I found with my current palette collection, there was a lot of cross-over in the shades. I do still have my eyes on the White Peach palette however... BUT, I do own two of the Too Faced Peach Oil Lip Glosses and they were such a sweet treat that when the collection of lipsticks was announced, I knew I had to get my hands on some!
Too Faced Peach Kiss Peach Beach
Peach Beach
It was absolutely a given that my first Peach Kiss lipstick would have to be the most peachy one, why make a peach collection if you don't leave with the peachiest thing they have? So, I couldn't be happier to make Peach Beach my first baby of this collection. Peach Beach an absolutely gorgeous bright peachy coral that is so gorgeous that I want to wear it all throughout the year! The pigmentation is wonderful on this shade and the formula is not too drying. I do find I need to re-apply somewhat throughout the day, but enough colour stays on the lips that it's not distracting or aggressive when you need it. It mostly stays put.
Too Faced Peach Kiss Makeup Me Happy
Makeup Me Happy
Now, as much as I love the formula and application of Peach Beach, this one not so much. Makeup Me Happy is a very sweet rose-tinted pink that I think is actually a rather fetching shade, but it's a bit hard to apply, with some patchiness during application. It's still a nice matte shade but I find it a bit trickier to work with than the others. Regardless, I think this is the safest of the three lipsticks in this collection that I have, as it can be worn pretty much anywhere as a solid, pretty pink. I just wish it wasn't so temperamental.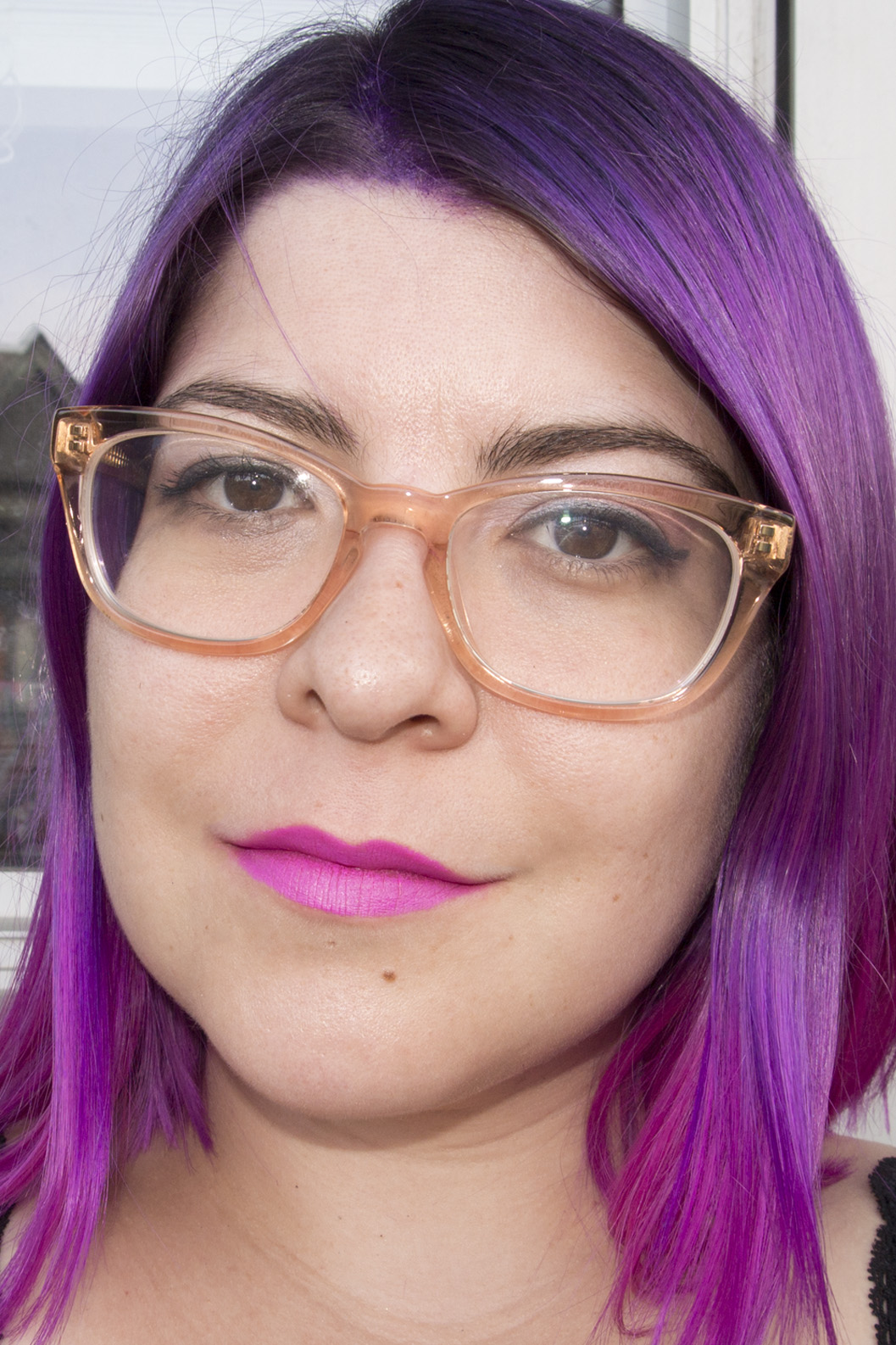 Too Faced Peach Kiss I Think In Pink
I Think in Pink
I was initially a bit worried when I opened up this lipstick , because I feared that the inevitable had finally happened, that I had found a pink TOO PINK for my pink-haired self to wear in public. THANKFULLY I WAS WRONG. This absolutely magnetic neon Barbie pink looks fantastic and I get so many compliments when I wear it on the town. The formula is very similar to Peach Beach so none of those application issues like Makeup Me Happy!
One last thing to note about these lipsticks is that it has a soft fragrance of Too Faced describes as a peach and fig-milk formula. I rather like it, but I imagine some people who are more sensitive to fragrances may not prefer something so strong on their lips.
Disclosure: I purchased Peach Beach when the collection launched, but I actually won Makeup Me Happy and I Think in Pink from Jasmine at The Happy Sloths during her 5th Blogaversary Contest earlier this year. I couldn't believe my luck that I won such on-brand stuff! Check out her blog because honestly, she's my swatch hero!
Have you tried anything from the Too Faced Peach collection? What's your favourite?