Story-time! Once upon a time there was a girl who dyed her hair every colour of the rainbow, had eyebrow piercings and multiple ear piercings and constantly tortured her mother with ideas for tattoos. But the one thing this girl didn't do was makeup. At all.
Makeup was too GIRLY, too DEFINED, too MAINSTREAM. It was a way of hiding from the world, it WAS a new world. It was INTIMIDATING and EXCITING but also too norm-core all at the same time.
SURPRISE! This was me.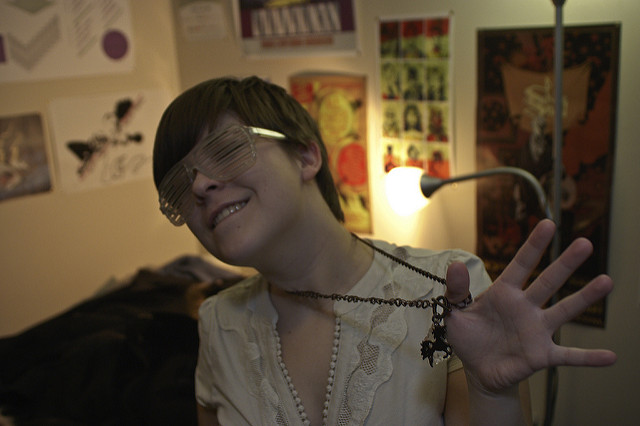 I owned maybe 10 beauty products from the age of 18-23. I was always very diligent with skincare (Thanks Mom!) but makeup was just not part of my world. I have no sisters, and my mom herself only does 'work makeup', meaning, she put the least amount on to look 'appropriate' in the workplace and took no joy from it. I didn't steal any makeup from my mom growing up and other than some tinted lip balms and tinted moisturizers, was pretty basic all through university and beyond.
BUT I slowly eased my way into it with nail polish, mostly as a way to combat my TERRIBLE habit of chewing or ripping my nails when nervous. And it worked! I started to get mad compliments on my nails and loved it. I actually got the idea for this blog because of all the compliments I received from my other makeup-novice buds about my purty nails.
But even with my budding obsession with polish, with regards to all the other makeup products in existance, I was a REALLY BASIC GIRL for years. Some tinted foundation or BB cream (when it finally came over to Canada), maybe a sweep of eyeshadow, eyeliner if I was feeling fancy and some mascara. Maybe. And not even every day.
But guys, this really didn't happen on a regular basis until I was 25. TWENTY FIVE! And since then I feel like I'll master certain things and forget others. I'm constantly learning and developing new skills and getting bolder and bolder. And for somebody who used to NOT wear makeup because she was terrified of looking like an idiot, it's great progress!
I think the reason I wanted to write this post was because I always felt like a bit of a late-bloomer to this whole thing. I'm not the kind of person who has a set style, or a signature scent, lipstick or bag. I'm never quite sure who I'll be from one minute to the next. But through makeup and this blog, I feel a lot more comfortable sharing the many versions of me to the world.
(Oh, and BTW, my blog turned two last month so yay, blog birthday to me!)