Last week, Shopper's Drug Mart sent out a BOGO for lipstick that I just couldn't refuse. I ran over to my local and before I reached the BeautyBoutique section, I read the fine print that said 'PRESTIGE LIPSTICKS EXCLUDED', disappointed but not one to be let down, I turned to the regular cosmetic aisle.
Now, to clarify, I'm no snob, but I definitely like to get the full value of a coupon, so while I wasn't able to snag a Dior or Urban Decay lipstick, I knew I'd still get something really good regardless. But what? There were so many recent releases and I didn't know where to start, so I got to swatching!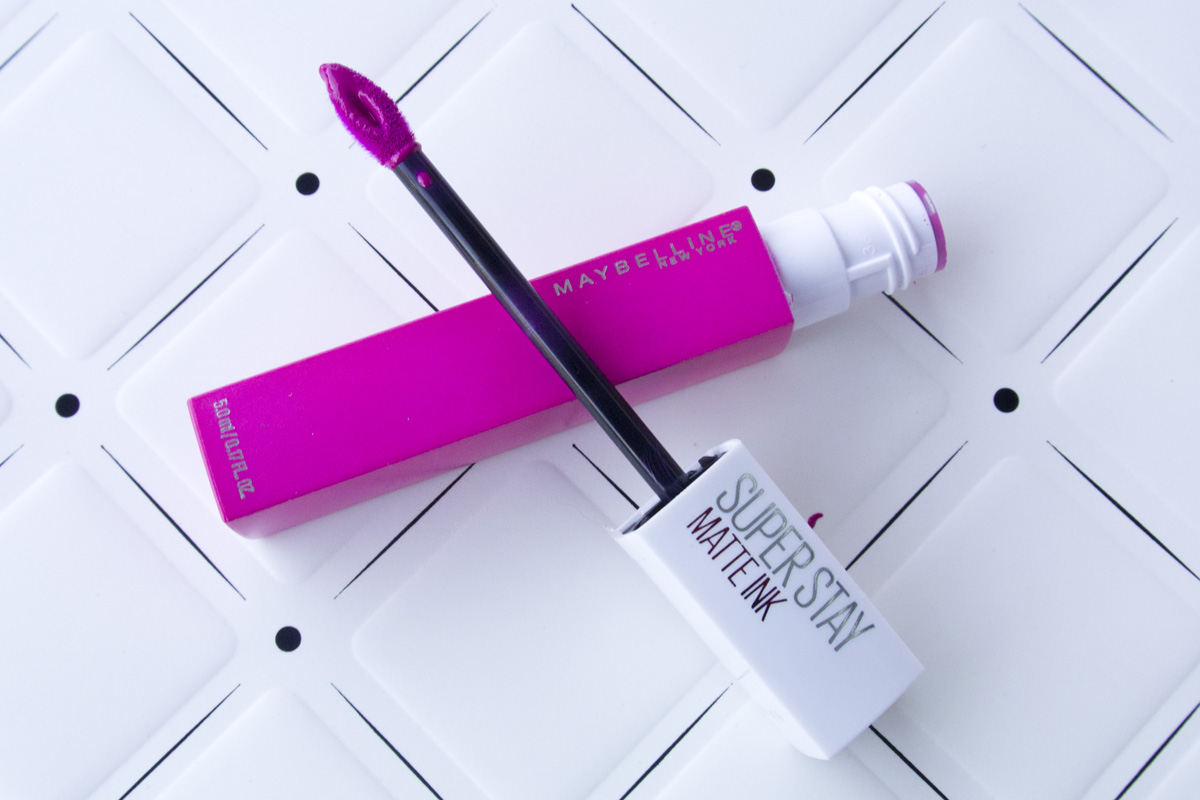 I tried a bunch of Revlon Ultra Matte HD lip colours, some L'Oreal Infallible, some NYX Butter Glosses, but I couldn't decide what to get. On a whim I also grabbed a really vivid tube of Maybelline I'd never seen before, the Super Stay Matte Ink in Romantic, swatched it and kept on swatching with other brands until my hand was covered. Still not 100% sure of what to get, I nabbed a makeup wipe to clean my hand when ONE colour just wouldn't budge. I rubbed, rubbed, and rubbed, and I only managed to get it off after enough moisture/residue had sunk into the swatch. Surprisingly, this was the Maybelline Super Stay Matte Ink! So I grabbed it, impressed by it's tenacity, but not sure how it would fare in a wear-test.
Cut to the next day, I put the lipstick on around 10am, told my co-workers I was going to do a test and while they all shared their love of the colour and its vibrancy, I was curious to see if it would be there past lunch. The lipstick itself does NOT feather and sets rather quickly, but the arrow-tipped applicator is a breeze to use, and I was able to paint a lip very quickly. It does take a bit of time to set, about 15 minutes or so, and the lipstick does feel a bit tacky for awhile, but less than a lip gloss, and the tackiness doesn't move around or change the colour.
And it was. AND after my afternoon coffee. And dinner. AND DRINKS AND DESSERT AFTER DINNER. I literally did not need to retouch this lipstick ALL DAY LONG. IT DID NOT MOVE. I had a slight receding along the water-line of my inner lip but nowhere near the extent of other drug store liquid lipsticks (I'm looking at you Nyx Liquid Suede) and the outer edges were IMMACULATE. I was totally impressed and blabbed about it on social all day. It also passed the kiss test, and did not leave and colour on my poor, surprised boyfriend who is use to me rudely bombarding him with colourful smooches.
Now I had heard some scuttlebutt about the lipstick being a pain to remove, but I went to my trusty Nyx Be Gone! and with a few dabs and some paper towel, my lips were free and clear in seconds. (Highly recommend grabbing Be Gone! as it's one of the best $5 I've ever spent.) After 14 hours of wear, my lips were a bit dry but no more than wearing any other average liquid lipstick. I put some oil-based lip balm on it afterwards and my lips were fine in the morning.
So, obviously, I bought two more! My collection currently includes Romantic, Heroine and Escapist, but I'm itching to hear if more are going to be released. The product was released over the summer, but I've heard rumour there are more colours coming so I'd be interested to grab some more colours, maybe a proper coral or a deeper brown, or BLACK? Here's hoping! You can get this for $11.99 on Well.ca or 12/13.99 at Shoppers Drug Mart and Rexall but it looks like it's sold in almost every place Maybelline is sold.
Have you tried this lipstick? Or are you sick of liquid lipsticks now? Let me know!